My first encounter with a Mac computer was in college...first year college (circa 1996) for our EDP 111 subject simply known as "typing class". The Mac computer looks like this then.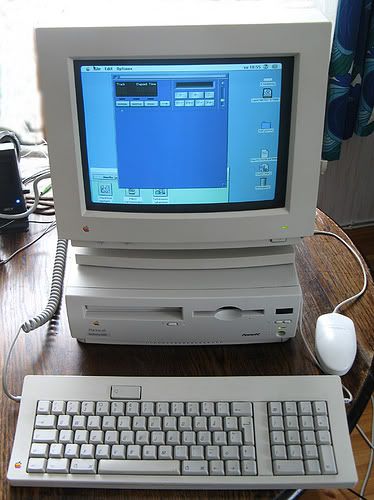 photo credit: dishinwithedna.wordpress.com



In order to get high marks, of course you have to be fast and accurate in the typing exercises. Damn! Im such a poor "slow-typer". I would say typing must be on the same level as my other Accounting subjects. My very good friend and college barkada Cherry was my seatmate. Mind you she is not just a fast talker at 1000 words per minute or a fast walker at 1000 steps per minute but she a "fast-typer" at 1 million words per minute! So after she finshed her typing exercises, we would switch seats and she will do mine. Perfect!

During tests we can not switch seats anymore but I manage to pass the EDP 111 subject with an 80% mark. My lowest of all my college subjects. F(#$*)# Hell!



Evidence : My scanned TOR.

Yesterday, October 5, 2011...Steve Jobs, Co-founder, Chairman and Chief Executive Officer of Apple Inc (the makers of the Mac computer) passed away at age 56 due to cancer. Still very young but his contribution to this world, I can never surpass even now that I type faster without looking at the keyboard. I am not really a "techy-person". For Apple products I do have an Ipod (the plain tiny one, which I rarely use), an Iphone (which I just got recently and use only for sms and calls) and an Ipad (which I bought I think 5 months earlier before the release of the Ipad2 - toink! and which I use only for Facebook and Internet browsing). We will not die without all these gadgets but with them we have a choice. Life seemed both complex and simple with technology but it is just amazing that there is person like Steve Jobs whose innovations have changed our lives and a friend like Cherry who helped me pass my computer typing class. I thank you.

PS.
If that EDP teacher gave me a grade below 80, Im really going to saw her chin.


Cheers!